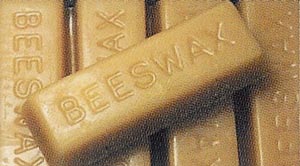 Probably the easiest rounds to make lube for are the lower velocity handgun rounds...... 45 Colt (LC)....45 ACP....most 38 loads, that sort of thing. When you add a gas-check to the equation a basic handgun lube will will work fine with almost any handgun round. Within reason of course! A basic handgun lube can be as basic as this ;
1 part Beeswax
.75 parts petroleum jelly
.25 parts parafin (candle wax)
Place these ingredients in a double boiler heat until melted, mix well and you are done! I personally use a Large electric crockpot but wives seem to get upset when they notice that their crockpot is missing so check first. If, after the lube cools , you find that you want your lube a bit stiffer simply add a few small chunks of candle wax. If you want it softer, simply add more petroleum jelly. Then reheat , mix and let it cool. Once you have it they way you like, WRITE IT DOWN!!!! Take it from me, you wont remember!
The reason That I gave a general recipe is because you will find that there is a "sweet spot" when it comes to bullet lubes. It might take awhile to determine the best mix for your loads but once there you will be amazed! Alot of folks dont agree with the "sweet spot" school of thought and thats fine. Try this....go to some of your favorite reloading related websites and post a question asking what everyone thinks is the best bullet lube. One person may love brand X but the next guy will swear that brand X will not work. Why? The much sought after " sweet spot" thats why!
This basic recipe was given first simply because most casters cast bullets for handguns, not rifles. The rest of these recipes will be geared towards those deranged individuals such as myself that use lead bullets for everything. So, onward and.....well, onward anyway!